We have a new art giveaway this year to celebrate Summer 2021! 
Why Book with Sagebrush Tours?
Anyone who books a tour with us this year will automatically be entered to win an original piece of art by local artist, Robyn Lake, of the Naramata Bench. Robyn has just completed this piece of artwork and we absolutely love how it turned out! 
The winner will be randomly drawn on October 31, 2021! 
Fun fact: The Naramata Bench is the hottest winery address in British Columbia thanks to its superb growing conditions for grapes, stunning landscape, and number of wineries. 
Note: Only the person who is listed as the contact for the tour will be entered
About the Artist 
Robyn Lake is a passionate oil and acrylic painter, and her work has been displayed in many solo and group exhibitions and collections across the globe. She loves to paint outside and varies her subject matter from close ups of flowers and fruits to panoramic landscapes. It is only fitting that she is our chosen local artist for this giveaway as her work eloquently showcases the brilliant colours and joy felt throughout the valley.
About the Naramata Bench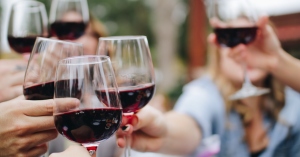 Often referred to as wine country because of the  37 wineries located within, the Naramata Bench overlooks Okanagan Lake in British Columbia. The leisurely atmosphere of the area takes over as you bask in the warmth and meander through vineyards, orchards, and farms. Relaxation is key as you take in the picturesque landscapes, sipping a local wine. The Naramata Bench is significant to the region because it promotes a sense of local community.
The artwork for this giveaway showcases the tranquil and serene lifestyle and scenery of the Naramata valley and Robyn's artistic passion will engulf your senses and take you right back to your tour with us throughout the wineries. 
With this artwork hanging in your home, it will remind you of your amazing Okanagan wine tour in Summer 2021 and the fun and relaxation you felt. All you have to do is book a wine tour with us!